Aveiro is not quite as romantic a city as Venice but it's cool seeing these little gondolas circling the canals of the city.
These "gondolas" are actually called moliceiros and are definitely visible everywhere. Looks like it's become a major tourist attraction in the historic centre so there are no shortage of tour operators willing to oblige you with a tour.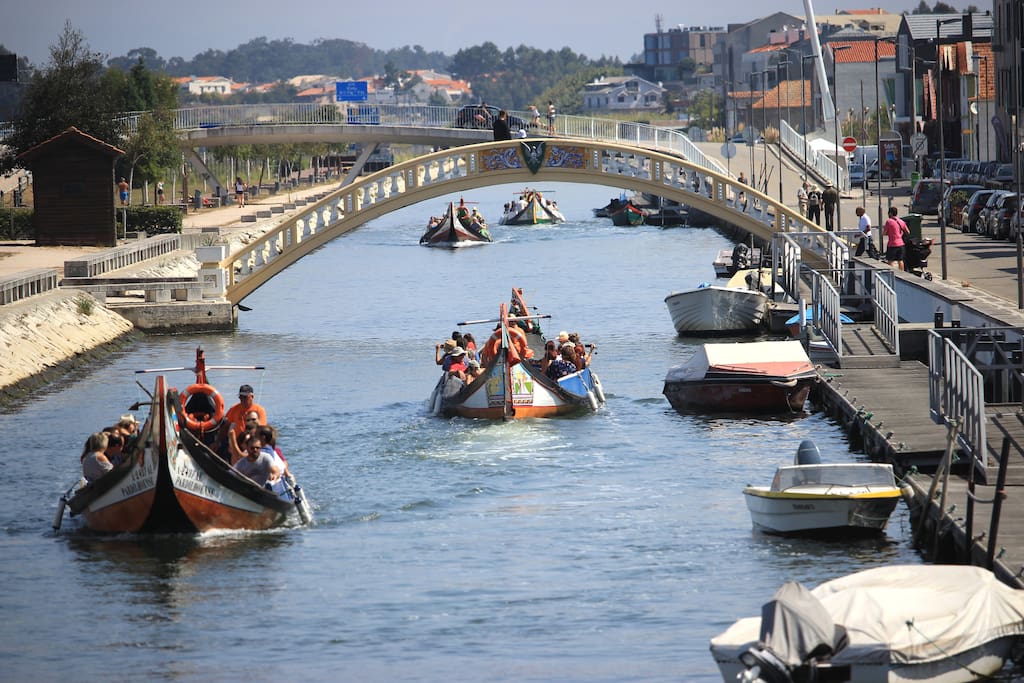 We arrived in Aveiro mid morning. The city is located south of Porto and it takes about 70 minutes to get there by by train. The train stops directly in the city and its a short walk to the historic centre.
Ovos Moles-
We had read before coming to Aveiro that they make a special sweet here that is unique to this area. They are called Ovos Moles, which in English translation would be "soft eggs."  The owner of the place where we ate ours, explained that to make this little treat they separate the yolks from the whites. Then the yolks are combined with only sugar to make the filling. The filling is placed inside two wafers.The wafer part reminded us of the wafers they use to make the Catholic host. At first glance we were not at all sure we would like these little oval treats but I must say they were actually quite good and could be addictive.
Watch your step!
When we began wandering through the quaint and colourful streets of Aveiro each building we saw was different from the next, and you can admire a wide range of tile work who's colour combinations varies through each tiny street. Excuse my little feet!😊
Art Nouveau –
Aveiro has a unique personality. It is very colourful and the facades of the buildings have a distinct architecture from what we have seen so far in Portugal.
 So we ran into these guys throughout the city. We think they may be  local detectives.😊 
Have they found the evidence?!!!
A peaceful place-
I find cemeteries peaceful places.  We just happen to  stumble on the Cemitério (cemetary) in Aveiro. We decide to walk inside it's grounds . I was completely surprised by what we saw. I had actually not seen this before .Some families here have built above ground "crypts" that contains the coffins of loved ones. All of these were beautiful, like little chapels and most are big enough to go and pray in them.
Costa Nova –
So by mid afternoon we decided to visit the fishing village and beach of Costa Nova. It's a 40 minute bus ride from Aveiro.
Here's what we found there – Candy cane houses!
We were quite intrigue by this? What could all this mean?
To get the gossip of the village you need to find the local fisherman and since I'm the daughter of one I knew exactly where to find one, at the fisherman's wharf of course!
These jolly Portuguese men that we met at the wharf were our own local historians! They were quite entertaining. 😊 We got lucky as the one on the left could also speak French so he did the translation for the other. We were on a roll! They solved the mystery of the coloured candy cane houses for us. They told us that years ago the fisherman had smaller houses. They did not have a lot of money so when they painted their boats they would often use the leftover paint for the house.  It was them as well who started this style of decor with the paint. They simple found a way to make good use of the leftover paint. This tradition has continued even though most of these fisherman now do not own the bigger colourful houses/cottages that we saw while we were there today. They told us where to see some of the original ones which we found later on that afternoon. (see below). These are smaller versions and some have been upgraded.
Sand Dunes –
We ended this beautiful day by going for a walk on the beach which is surrounded by beautiful white sand dunes. Similar to what we would find back home.
Familiar sounds of the ocean. 🌊. Can't get homesick now. Too many other things to see.
Braga is next!